After a limited release for the Android platform in mid January, Clash Royale APK is now available for global. Just like Clash of Clans, this game certainly has been topping the list of the game's most widely downloaded to Android and iOS.
Clash Royale APK is the latest game created by Supercell, maker of the famous game Clash of Clans. Different from all the games ever released by Supercell, Clash Royale offers a style of play CCG (card collective game) one on one online.
Basically Clash Royale APK is a strategy game by playing cards in realtime from previous character popularized in Clash of Clans. In addition there is also a character Arena as a place to fight fellow players and of course in the arena there is a prize of Chest contains the character cards.
Arena and highly related cards in this game. If you play at the Arena higher, you can get a card with the character and skill better. To play in the Arena higher, the player must earn points higher trophy.
Arena Tutorial: Training Camp
The first arena that you will encounter is the arena of training or tutorial. Inside the Arena, you will get some basic card, ie Arrows, Bomber, Archer, Knight, Fire Ball, Mini P.E.K.K.A, Musketeer, Giant, Prince, Baby Dragon, Skeleton Army, and the Witch.
Download: descargar clash royale apk
Arena 1: Goblin Stadium
Goblin Arena Stadium is the first you are going to play in real time against other players Royale Clash worldwide. Terms trophy needed to play in the Arena is zero. Within this Arena you can get some cards, including Spear Goblins, Goblins, Goblin Hut, Valkyrie, Lightning Spell, and Goblin Barrel.
Arena 2: Bone Pit
After playing in the Arena 1 and many get a card, it's time you start doing what's best combination of cards to play in Arena 2: Bone Pit. Terms of playing in Bone Pit is 400 trophy. The collection of cards that can be obtained in this Arena as the name associated with the bones, which Skeletons, Minions, Tombstone, Bomb Tower, Giant Skeleton, and Balloon.
Arena 3: Barbarian Bowl
The next arena is Arene 3 or can be called with a Barbarian Arena Bowl. Here you can begin to get some cards of characters that have been popular in Clash of Clans, like the Barbarians, Canon, Rocket, Barbarian Hut, Rage Spell, and the X-Bow. Requirements to play in Arena is 800 trophy.
Arena 4: P.E.K.K.A's Playhouse
Terms of the number of trophy to play in the Arena P.E.K.K.A's Playhouse is 1.100. Arena is different from the previous three, the thrill of playing in the Arena fourth and so feels more tense. In P.E.K.K.A's Playhouse effects flowing lava in the middle of the arena. Some card collection that you can get from that Tesla Arena 4, Minion Horde, Inferno Tower, Hog Rider, Freeze Spell, and P.E.K.K.A.
Arena 5: Spell Valley
The higher the Arena you play, the more weight anyway opponent you come across. In Arena 5 or Spell Valley takes some strategy and a special combination of the best cards. To play in Arena 5: Spell Valley requires 1,400 trophy and several character cards that can be obtained is Zap, Wizard, and Mirror.
Arena 6: Builder's Workshop
The next arena is Builder's Workshop made of wood. Terms trophy amount required to play at the Arena is 1,700. Some card collection of characters that you can get in the Builder's Workshop is Mortar, Elixir Collector, and Golem.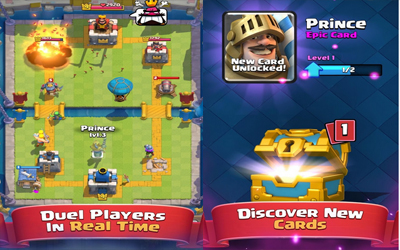 Arena 7
Next is the Arena 7 under the name Royal Arena. Playing in the Arena requires the number of trophies as much as 2,000 points. Several collections of cards available and can be hunted in this Arena is the Dark Prince, Princess, Royal Giant, and
Arena 8: Legendary Arena
Arena highest as standings are Legendary Arena or can be called by Arena 8. Trophy takes to play in this arena is 3,000 points. Unfortunately not yet known what the Arena as well as the character of what can be earned when playing in the Arena 8. Get the latest Clash Royale APK for free.